Lean Facilities Overview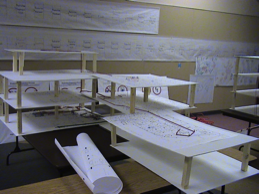 Lean Advisors Facility Design help organizations create innovative facility designs that support lean and other advanced work environments. Through a managed facilitation process, we bring staff, managers, and designers together at the planning table, building the work environments of tomorrow
Our unique combination of lean Value Stream Mapping and 3P creates a common language that translates workflow patterns into spatial design priorities. The result: a smooth, consultative design process leading to facilities uniquely aligned with the creation of customer value.

Facilities are becoming leaner.
Lean Facility Design reflects a growing trend in healthcare, manufacturing and the service industries towards lean facilities. Lean Advisors have partnered on projects for organizations like Starbucks, Coca-Cola, Saskatoon Children's Hospital, and Quinte General Hospital. We help our customers achieve:
Maximum efficiency: Lean facility layouts eliminate wasted motion and optimize flow, leading to high return on lean initiatives.

Responsible spending: Lean Facility Design provides a list of design priorities, along with expected ROI, for budgeting purposes.

Optimized for people: Lean facilities provide friendlier and less stressful environments for clients and staff.

Predictable results: Lean Facility Design reduces re-work, streamlines review processes, and eliminates surprises.

Immediate payback: The process uncovers efficiency opportunities that can be applied immediately in the existing facility.
Partnership with Heartleaf Consulting

Lean Advisors has aligned with Heartleaf Consulting to provide 'engineered' supply chain management and logistics solutions.  Clients will have access to Lean Advisors' unparalleled experience in Lean transformations over the past two decades combined with Heartleaf's supply chain experience and professionals.  Heartleaf has a team of supply chain and logistics professionals with experience across a vast range of industries and sectors including manufacturing, warehousing and distribution, transportation, 3PL, retail, consumer product goods, food and beverage, hi-tech, healthcare and government.
Lean Advisors employs senior consultants who are veterans in the industries they serve. To learn more about how we can help you make your facility everything that it can be, Contact Us or Call 1-613-382-1583.