Success in Just 5 Days

Sofap Ltd is the largest coatings manufacturer in Mauritius promoting the brands Permoglaze on the local market and Proluxe Coatings for exports.

Sofap Success Story Sofap Ltd Company Profile

Located on the island of Mauritius in the Indian Ocean, Sofap is the largest coatings manufacturer in Mauritius. Sofap operates from a 4300 m² factory, designed with modern production equipment, laboratory facilities for both R&D, and quality control. The company manufactures and commercializes a wide range of quality coatings under brands such as PERMOGLAZE and its own brand Proluxe Coatings mainly for export markets. Manned by a staff of 60 and 130 operatives, Sofap Ltd has a production capacity of 5M litres per year. Sofap's Lean Journey Sofap started their Lean journey by having their managers attend an Introduction to Lean workshop conducted by Andrew Cheah from Lean Advisors. A number of leaders were then selected to form 2 teams for the Lean intervention.

Day One
The program started off by having the team shift their paradigm of looking at running their business. They were trained to see wastes from the perspective of the customers. They then learned about Enterprise Value Stream Mapping™. After selecting 1 major product family, the 2 teams spent time in the "gemba" to hunt for wastes. The teams were surprised by the amount of waste that existed. They realized the amount of improvement needed to make them competitive as well the amount of cost savings that existed within their organization.

Day Two
Mapping the Current State was a great experience for the team members as they came from different departments including sales, human resources, store, distribution and finance. It took some time for the teams to come up with the map, as this is a crucial process for the team to fully comprehend the current practice within the organization. A Future State map was created with 3 improvement loops: The operation packing loop, Finished goods distribution loop, Supplier loop.
Creating Flow
Day Three
As the packing process is the bottleneck, the teams then focused on ways to keep the products flowing. First, the teams started by red tagging the wastes and unwanted items in the packing operation area. After compiling the list of red tag items, the teams continued to propose a new layout for the plant which focuses on eliminating transportation and motion wastes. Upon completion of the new layout planning, the teams then moved to the 'gemba' and started to re-layout the packing operation in order to smooth out flow and improve efficiency of the operation.


The following pictures are the before and after of the packing operation.





Quick Changeover Day Four
After re-organizing the packing operation, the teams focused on reducing the changeover time and layout to make the packing cell motion-less and transportation-less. They were able to reduce the changeover time by 97.8%. This increased the packing capacity without having to purchase any new equipment. This capacity is estimated at USD1.6 million of paint.

The walking distance to set up the workstation was reduced from 720 ft to 86 ft. The teams arranged all the key tools needed to do the setup around the workstation. At a later time, the teams will add shadow boards for the shared tools and some simple modification of the packing equipments to speed up the changeover. The new packing cell layout is show below.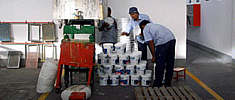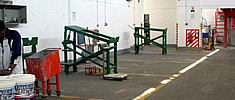 Kanban Day Five
As the teams leaned out the packing operation, they started looking at ways to smooth out the information flow to create a demand driven process. A supermarket was set up in the finished goods store with demand triggered by using 'kanban' to plan for daily and weekly production. The goal was to reduce the 1 month of finished goods inventory to 2 weeks over 6 months. Production planning was switched over to 'kanban' to trigger the equipment/material needed to run the production smoothly. When production is ready to do packing, the cans are not ready and the labeling departments have a different production job sequence from the main production line. They prepare the cans that production is not ready to pack yet and thus need to take up extra space in the packing area to store them. Purchasing also proposes to use kanban to trigger delivery signal to the suppliers to reduce stock holding and at the same time, reduce the effort of having to always go to the raw materials store to check the inventory.

Summary
Overall the participants felt very confident to move on and carry out the action plans to be carried out for the next 90 days. The participants have work very diligently during the five days and the results that they see in these five days would spur them to do more