On September 3rd, Algonquin College Corporate Training and Intersol | Lean Advisors held a Knowledge Builder session to introduce the concept of Lean Process Improvement and the newAlgonquin College Lean Management Certificate Program just launched.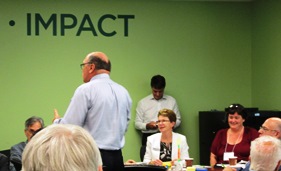 My colleague, Alain Rabeau, and I (Mike Boucher) had the pleasure of delivering a 1/2-day "Lean Beginnings Knowledge Builder" hosted at Algonquin College Corporate Training Centre in Ottawa. This public offering was developed as a time-efficient way for interested parties to learn about the merits of Lean and highlight the new Algonquin College Lean Management Certificate program.
There was clearly a strong interest in learning more about Lean based on the over 50 attendeesduring the rather hectic first week of September.  Attendees represented a number of sectorsincluding manufacturing, health care, service and government.
Lean Beginnings Knowledge Builder was an engaging and interactive session that combined a presentation and discussion about Lean with a lively simulation exercise to reinforce the philosophy of Lean.
Attendees were:
Introduced to the concepts of Lean,
Provided with insights surrounding how to successfully launch and implement Lean within their environments, including sustainable change methodology,
Engaged in a lively and interactive Lean simulation to demonstrate the power of Lean through the elimination of 'waste'.
Finally, participants had the opportunity to learn more about the Algonquin College Lean Management certificate program. This exciting new program delivers hands-on training in the thinking, tools and critical methodology needed to successfully implement Lean initiatives across public and private sectors; invaluable to any individual or organization wanting to advance in the area of process improvement.
Learn more about the program at http://www.algonquincollege.com/corporate/courses/lean-management/
Or, feel free to contact me any time to help you in your Lean journey!