Workshop Focus:
This workshop is designed primarily to provide a practical Introduction to Lean, tailored specifically for individuals looking to launch a Lean Transformation that marries both methodology and process with cultural, people-related elements for long-term sustainability. At the conclusion of the workshop you will have an understanding of Lean and the critical elements necessary to embark on a departmental or organization-wide transformation to create an engaged, client-centered culture that continuously challenges existing practices and end-to-end processes. You will learn how to properly introduce the philosophy of Lean and its methodology to effectively improve service delivery to your clients, while doing the most with what you have, with greater quality at the least cost.
Our Lean Transformation Model for Sustainability: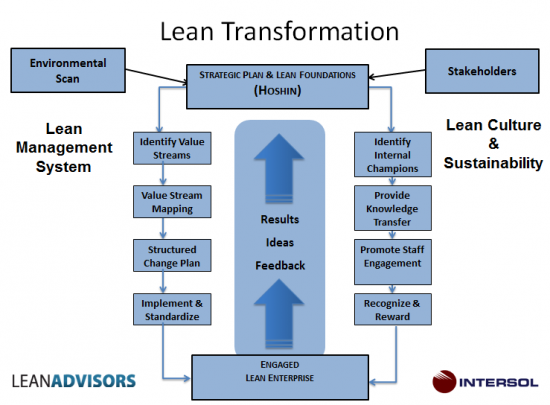 Who Attends?
Individuals and teams looking to introduce or reinvigorate their continuous improvement strategy with a view to streamlining processes and doing more with what they have:
Senior Leaders
Continuous Improvement Leaders
Business planners
Finance
Quality
Engineering
Human Resources
Operations
Communications
Key Topics to be discussed include:
The Philosophy of Lean
Application of Lean in different sectors and environments
Identification of 9 Types of Waste (Includes interactive brainstorming exercise)
Value Added Work vs. Incidental Work vs. Pure Waste
Fundamental 5 Lean Principles (Includes interactive simulation exercise)
Lean Transformation Framework
Define Value Streams through a review of end-to-end processes
Create Lean alignment across the organization
Organizational focus to improve Value Streams and Processes that allow your staff to be successful and engaged
People as assets, not problems
Stakeholder Engagement as a critical Lean success factor
Determining the right place to start within your organization
Workshop Agenda:
09:00
A. Getting Started: Welcome and Objectives
B. Lean Origins
C. Waste Definitions
10:30
Break
10:45
• D. Waste Exercise
• E. Lean Simulation Round 1
• F. Principles of Lean
12:00
Lunch
12:30
G. Lean Simulation Round 2
H. Transformation Model
I. Hoshin Planning
J. Value Stream Mapping as a critical Lean Tool
14:00
Break
14:15
K. Kaizen – Rapid Improvement Events
L. Determining where to start
15:30
Open Forum Q & A and Workshop Evaluation forms
16:00
Workshop Close
Facilitator:
Mike Boucher, Senior Lean Consultant and Trainer
Lean Advisors, Inc., a member of the Intersol Group of Companies
Mike has over 25 years' experience with Lean in his role leading companies in their Continuous Improvement and Lean journeys. Throughout Canada and the US, he initiated and perfected the application of this knowledge and experience within government, crown corporations, healthcare (hospitals, laboratories, and administration), and educational environments, in addition to traditional private sector manufacturing settings.
Enrolment is Limited on Purpose!
In order to ensure as much personalized attention, interaction and learning, each workshop will be limited to a maximum of 15 participants.
Investment:
$495.00 + HST Includes workshop workbook, refreshment breaks and lunch.